Automatic amv HMDS batch wafer processing equipment
Economic series production
In order to optimize adhesion of photoresists on surfaces, so-called primers are being used to improve adhesion and to guarantee a uniform resist layer. One of those primers is HMDS (Hexamethyldisilazane), often used in photolithography.
amv 200 has been specially designed by amcoss as an equipment for automatic HMDS wafer processing for series production, which is unique in the market. Where single-wafer processing machines – in carrying out HMDS coating processes in vapor prime modules for single substrates – meet their limits as far as procedures and quantities are concerned, amv 200 is the best and especially economic alternative. amv 200 is able to simultanously process up to 125 substrates – depending on their diameter – in several carriers.
Ø 3″ – 5 carriers – 125 wafers
Ø 100 mm – 4 carriers – 200 wafers
Ø 150 mm – 3 carriers – 75 wafers
Ø 200 mm (bzw. 8″)  – 2 carriers – 50 wafers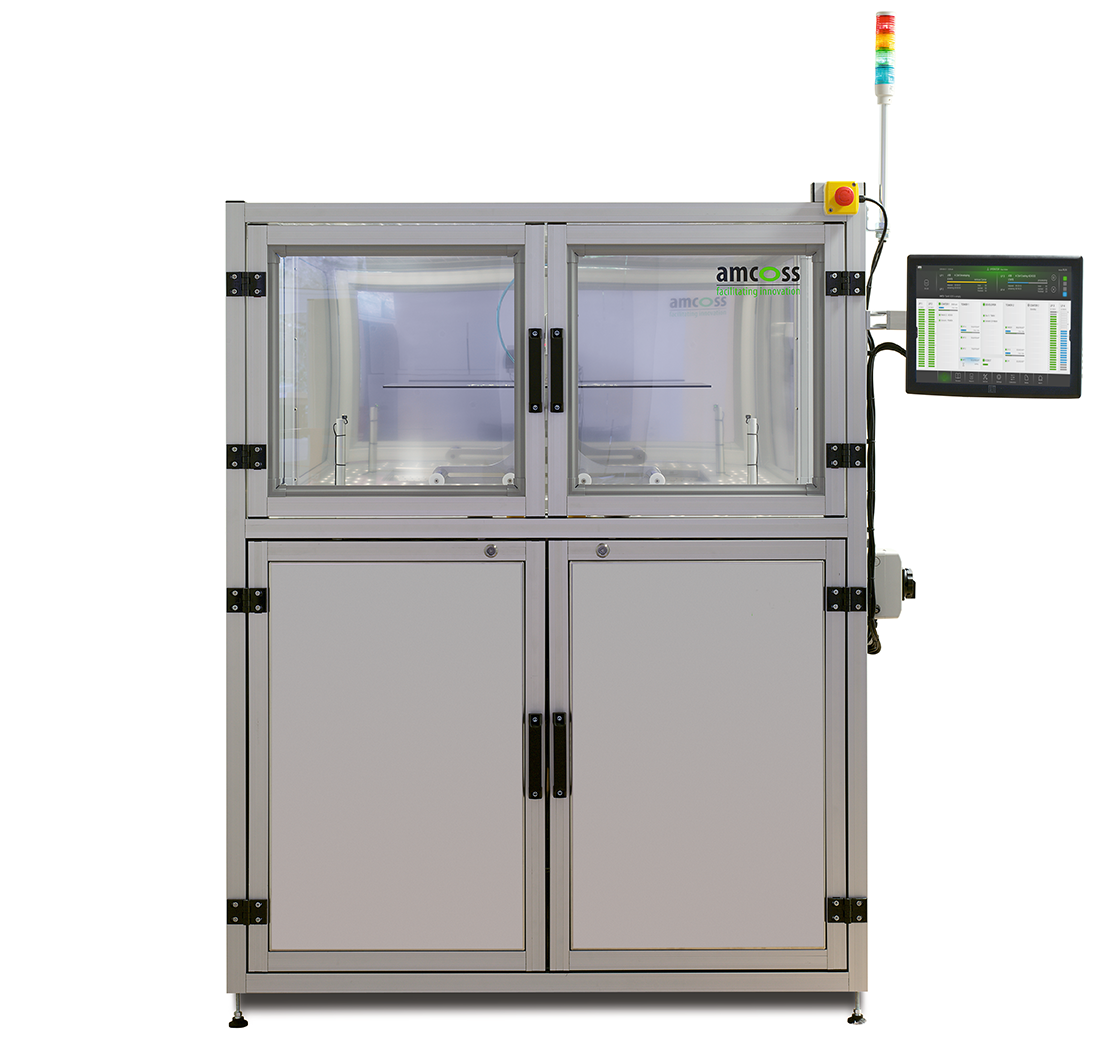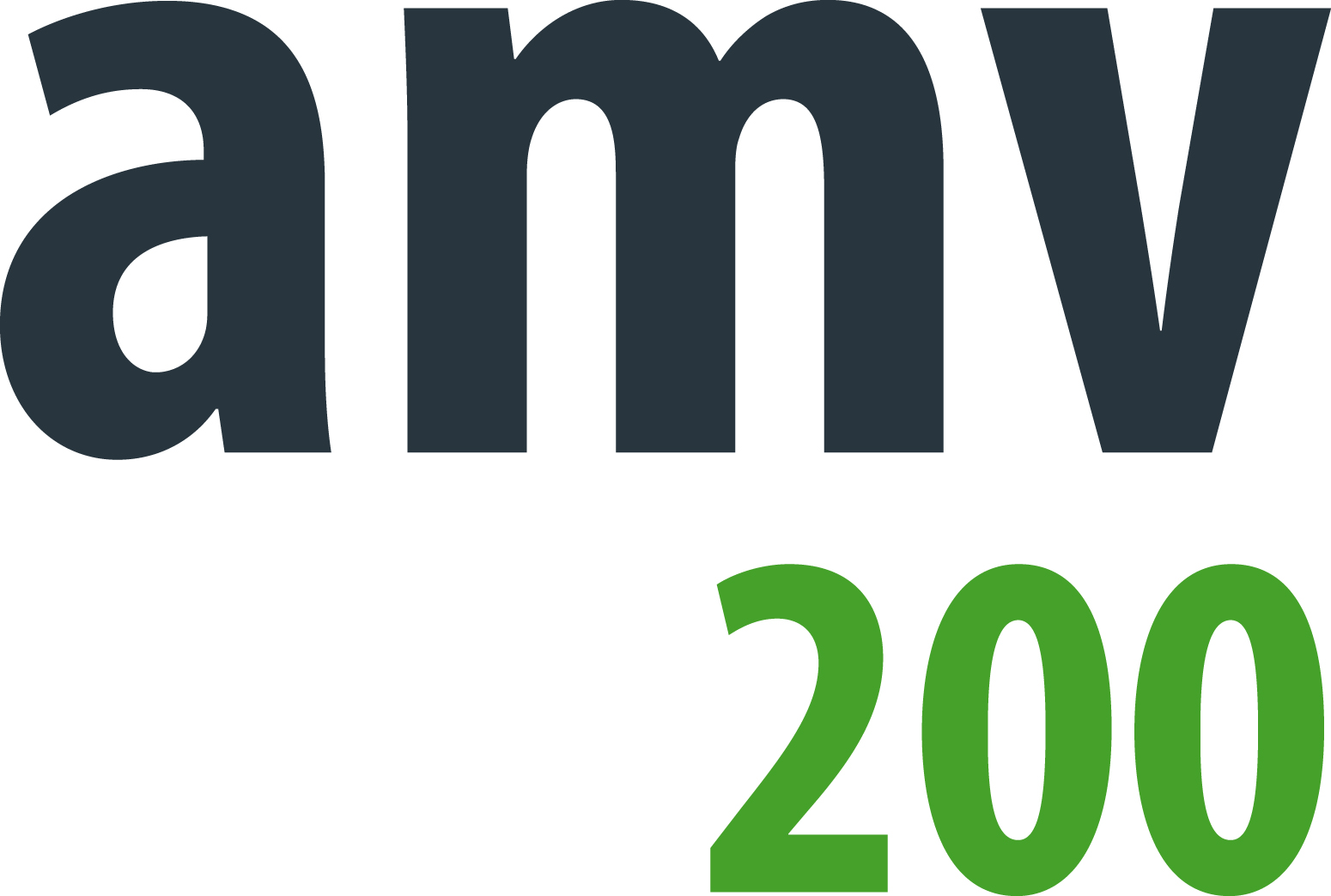 Compared to HMDS ovens, amv 200 fares significantly better which shows in a more favourable cost-of-ownership. So, process times are 5-10 times shorter, which results in substantially higher throuhgput. Demand for expensive components with high maintenance requirements, e.g. vacuum pumps, is considerably lower in the amcoss equipment. Also, no expensive special carriers are necessary. Investment- as well as service costs can therefore be markedly reduced. Even in security matters our amcoss equipment scores: compared to the treatment in ovens, carriers and substrates in the amv 200 do not heat up and can be removed directly after processing.
Because vapors, generated during HMDS processing are quite critical, we put special attention to safety in order to ensure best possible process-, but also user security. The whole process is completely and constantly being monitored and controlled by a module of our new ams pilot software.
Process efficiency and occupational safety
Sustainability through process efficiency and safety features – two aspects that have been combined in our amv 200 equpiment. We take these matters seriously because they do make a difference. Simultaneous processing of a great number of substrates on one machine, containing only a few cost- and service-intensive components, shortens process time and increases throughput. Explosion prevention and protection, controlled exhaust, pressure control, low process temperatures and other safety devices as well as an effective software contribute to sustainable security.
Highlights
Elaborate features make the difference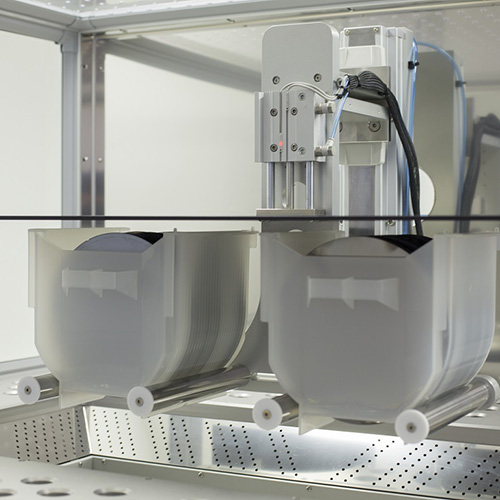 Carrier station with detection
Carrier station with detection
The carrier station can hold 2 – 5 carriers with a maximum of 125 wafers. The number of carriers is being automatically recognized and registered by the two detectors for lot-control.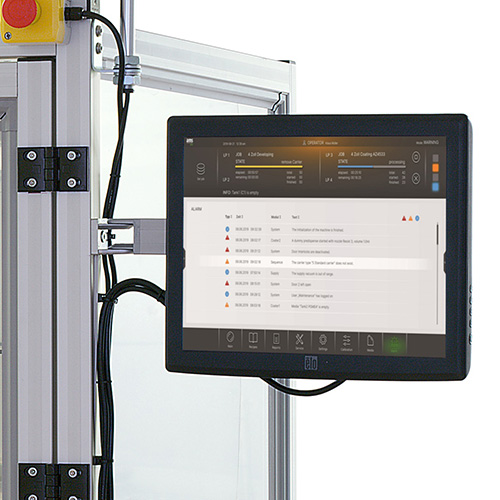 Touchscreen to operate amcoss ams pilot software
Touchscreen to operate amcoss ams pilot software
Our intelligent ams pilot software is also being used in the amv 200 to control processes and to write recipes in an easy and comfortable way. As standard, we use a rotatable industrial PC with touchscreen and SECS/GEM interface to operate the machine.

Pressure tank with pressure control
Pressure tank with pressure control
The pressure tank for automatic HMDS refill (bulk fill) has got integrated pressure control. The tank sits within an overflow tray and is equipped with leakage control. HMDS concentration control is situated within the equipment.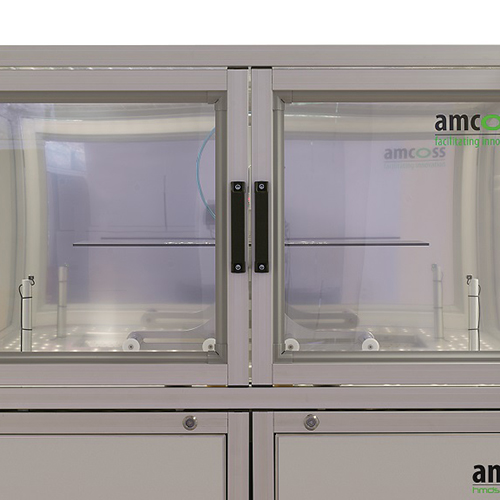 Covered loading station with integrated exhaust
Covered loading station with integrated exhaust
The loading station with cover, as well as the machine cabinet situated below, are equipped with a controlled exhaust.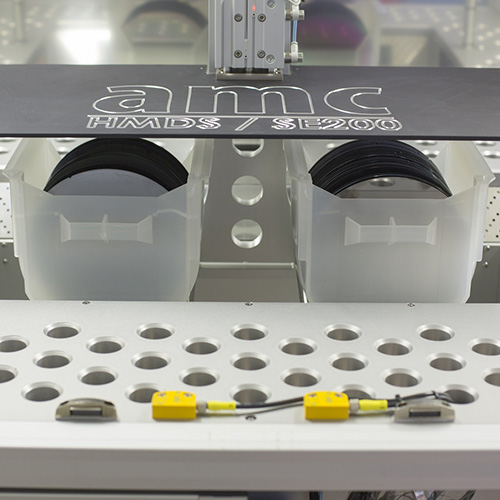 Stainless steel process chamber with HMDS vaporizer
Stainless steel process chamber with HMDS vaporizer
Within the HMDS stainless steel process chamber the process can be controlled and mastered at any time thanks to clever product features:
Integrated HMDS vaporizer with controlled N2 flow
Control of the HMDS concentration
Control of HMDS exhaust
Drain valve for the HMDS tank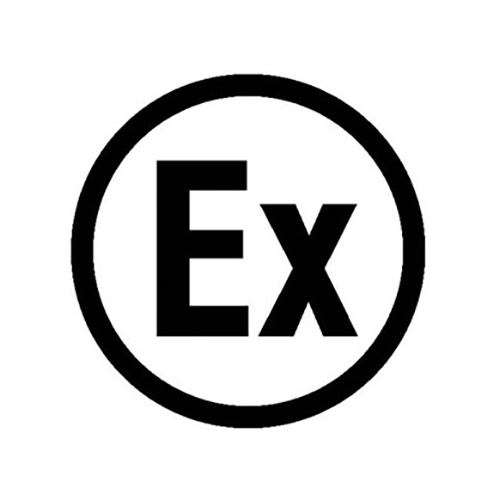 Safety precautions
Safety precautions
For operator safety you will find a security switch on the doors: if the equipment is being opened during operation, the HMDS process is being stopped immediately. Furthermore, all important parts are explosion-prove installations to make the equipment safe.
Download flyer automatic amv 200 HMDS batch wafer processing