Accessories
Special accessories and complementary equipment complete our broad range of products: Our own air- or gas-driven trap tank system offers numerous advantages and improves the coating process even within spin coaters of other manufacturers. The automated amcoss resist storage optimizes the supply on demand of resists during the production process.
Trap Tank System
Special resists dispense system for wafer coaters
With our amcoss trap tank system we have developed a special, innovative, and efficient resist dispense system for use on our amcoss single wafer spin coating equipment, as well as for retrofits on other OEM coaters. It replaces conventional resist pumps by an air- or gas-driven tank which enables the handling of a much bigger resist reservoir and avoids bubble formation.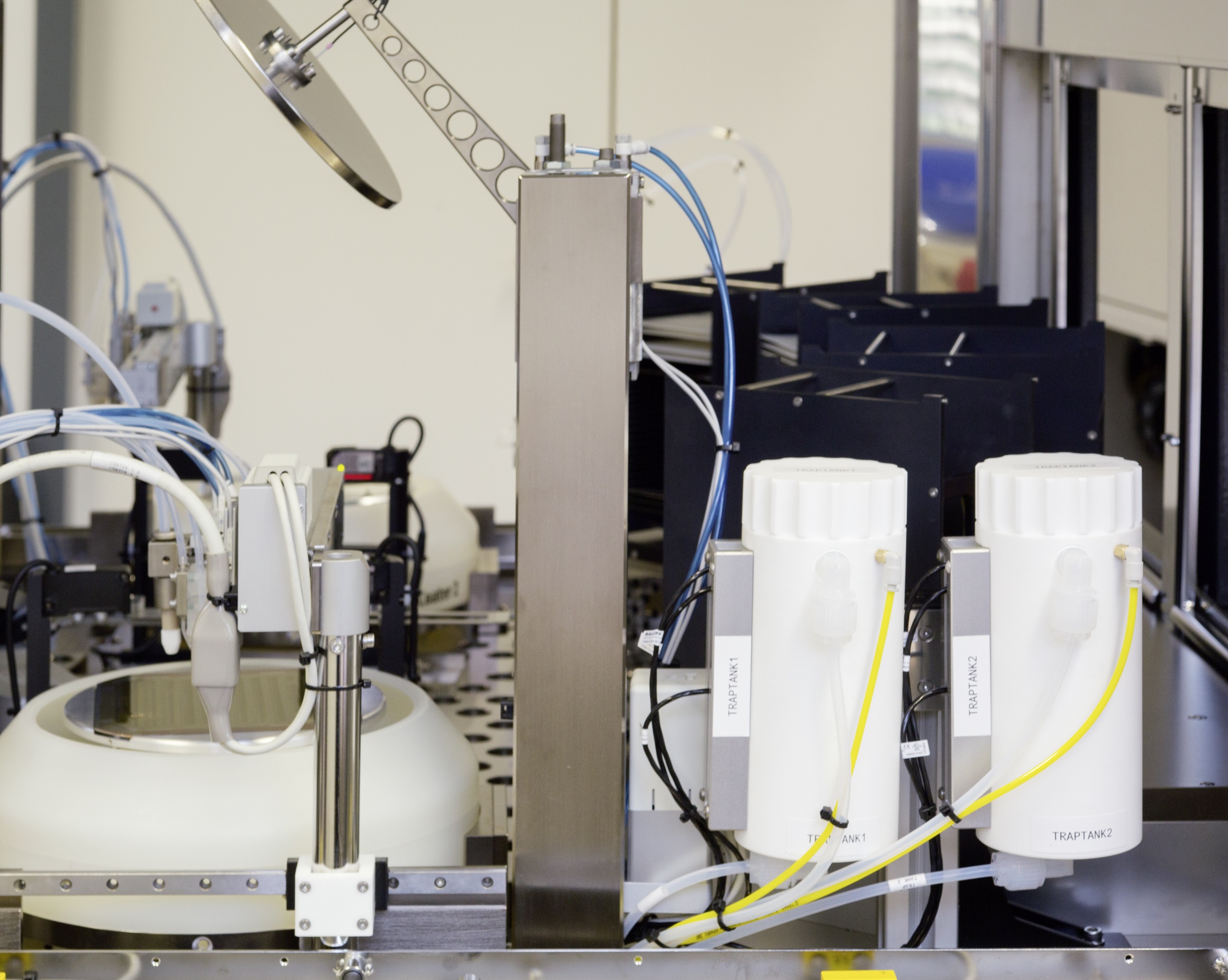 Mode of operation
The system consists of a sensor-controlled reservoir and a suck-back dispense valve. The reservoir supplies the dispense valve which is mounted near the nozzle. The resist volume is set by pressure and trigger time.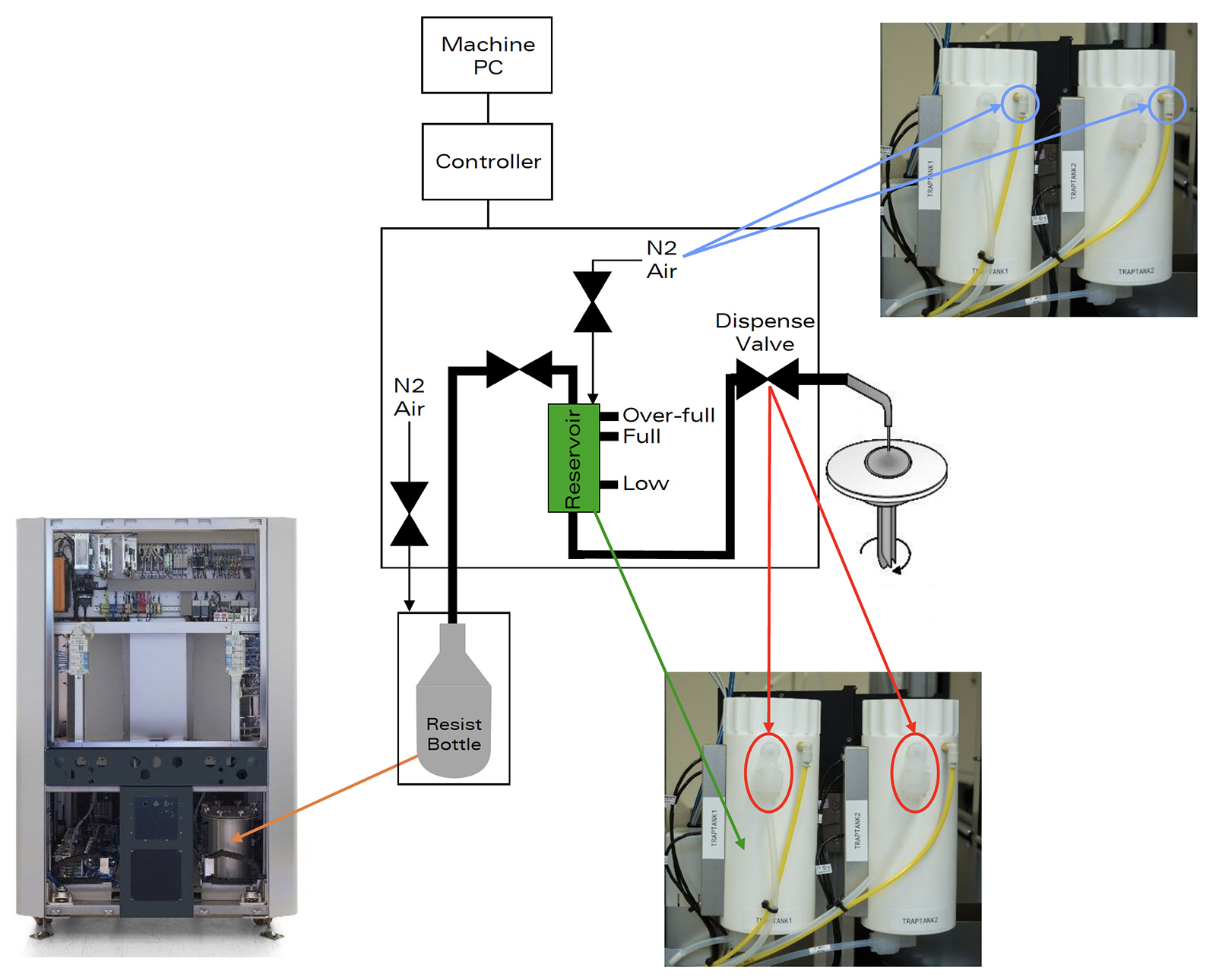 If the reservoir reaches empty level the tool can still run a predefined number of wafers. Furthermore, the tool is equipped with a sender cassette stop and the tank will be refilled automatically from the resist bottle. The over-full sensor prevents the reservoir from overflowing in case of a technical defect of the full sensor and stops automatic refilling. Thus, it guarantees maximum safety.
Technical details
Pressure regulation 0,1 mbar
Gas filter 0,001 µm
Resist filter according to customers specification
Dispense volume +/-0,1ml or 10% accordingly
Retrofits of non-amcoss tools
When retrofitting other OEM tools with our trap tank system a controller with touch panel is added to the existing equipment. The track output triggers the PLC which controls the dispense valve.
System advantages
Easy to clean
Customized size of reservoir (20 ml to 250 ml) enables multiple series dispense
No waste of resist due to efficient filling procedures
Bubble formation is avoided because resist enters at top and exits at the bottom of the trap tank
Handling of small resist samples possible
Exceptionally reliable, cost-efficient and low-maintenance due to a reduced number of mechanical parts
Dispense of high viscosity resists up to 14.000 cps
No high pressure in dispense line which avoids segregations of solvents in photoresists as well as the formation of striae and spots
Perfect resist storage
Fully automated, controlled resist storage
and supply on demand
The amcoss resist storage unit is the perfect system for save, easy and controlled resist storage. With its very flexible and adjustable shelves a wide variety of resists and bottles made of various materials can be stored and supplied exactly at the point of demand. The boxes in the storage chamber can be cooled/tempered with temperatures varying between 5 °C and 20 °C. After selection of the requested resist type the locker system automatically opens the corresponding door. A weighing system automatically recognizes the removal of the bottle.
All this guarantees safe resist storage and constant resist quality at full control of stock requirements, inventories, and resist properties.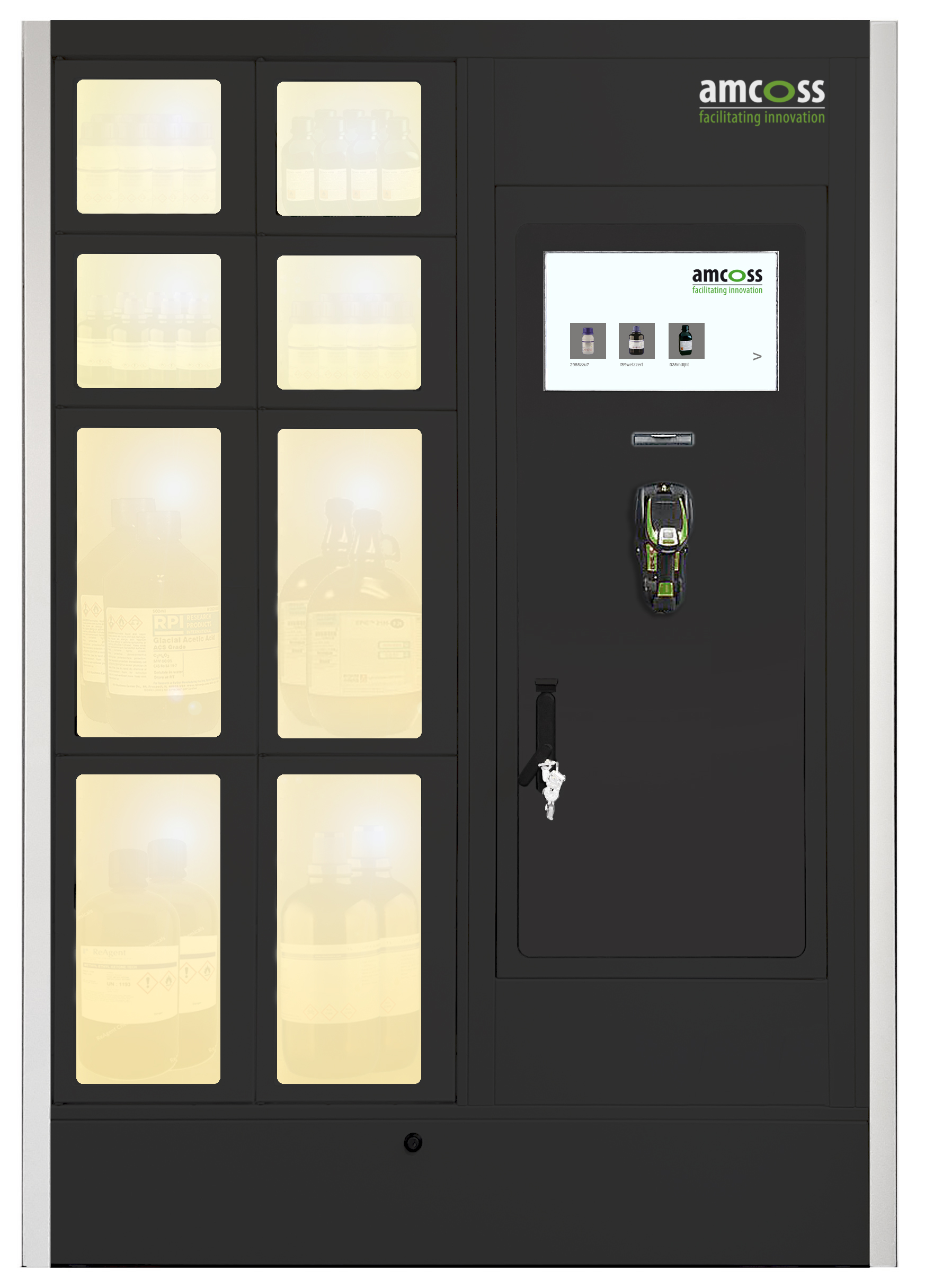 Beneficial highlights
Full control: each bottle can be selected and managed by the relevant module of the comfortablesoftware. All necessary parameters can be adjusted and will be logged into the software.
SECS/GEM interface: the tool can be equipped with a SECS/GEM interface or other customized protocols. Connection to an ERP management system enables on time automatic ordering. This ensures constant availability of the resists.
High-quality hardware: taking proven high-quality, standard industry-components ensures reliability in operation, long lifetime, good serviceability and a very attractive price-performance-ratio.
Safe: designed according to the newest safety rules.
Standard features
Resist supply on demand
Temperature controlled and logged
Material report, temperature diagram etc.
FIFO storage
Storage shelves may be adapted to the shape of the required bottles
Personalized or tool-controlled supply
Minimum inventory of each resist definable
Expiration date definable
Integrated hand-scanner and label printer
Different sizes depending on volume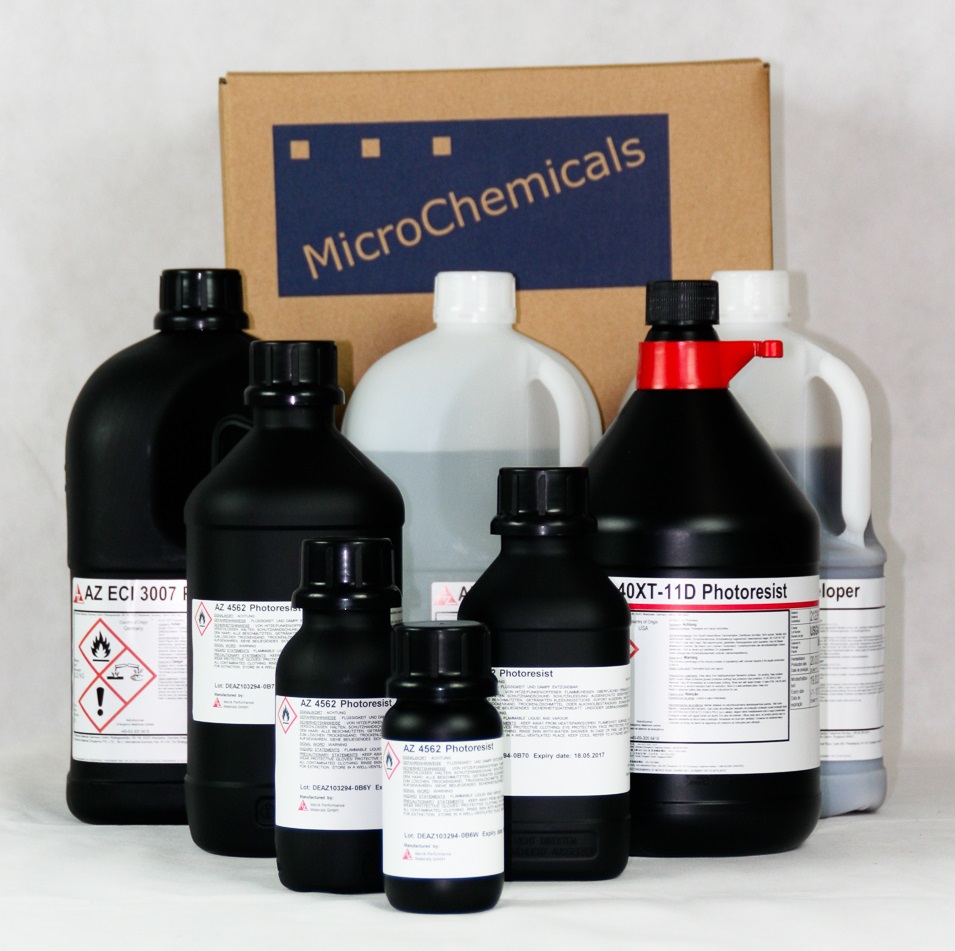 Individually selectable, useful options for
customer-specific equipment
Our fully automated amcoss resist storage system is available in different sizes with a varying number of lockers and may be equipped with additional, individually selectable intelligent features which make the handling of all storage processes even more comfortable, safe, and easy. These options can be chosen by the customer according to his individual needs or process requirements. So, we are able to create a storage unit meeting the specific needs of every single client.
RFID log-in system
Handheld barcode scanner
Message system via push e-mail or SMS
Adaption to ERP system
Smartphone app (prospective)
Barcode or RFID sticker printing system
Different machine sizes depending on volume
Advanced user-management
Cleanroom compatibility
Optional customer specific MES Interface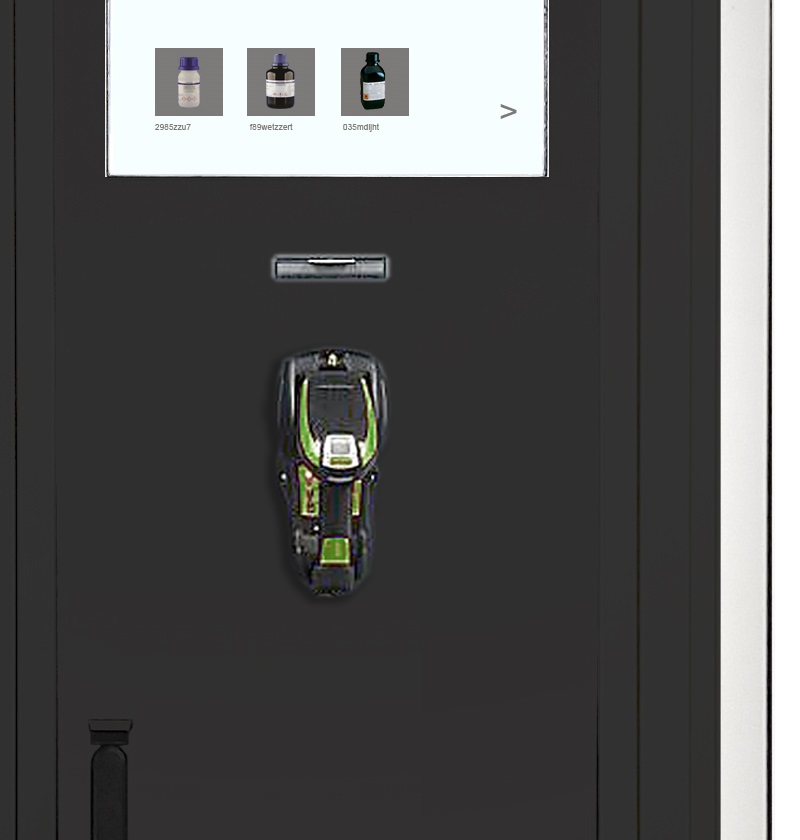 Technical details
Power supply: 230V 50/60Hz 16Amp
Refrigerant: R134A
Bottle transport: X-Y handling system with smooth motion