In-house "Smart Lab by amcoss"
Your processes in our laboratory
With our in-house Smart Lab at our amcoss head office in Feldkirch we would like to support our customers in more than one ways:
Small-lot production@amcoss
– customized wafers despite small quantities
We are able to take on the production of small lots or pre-series for you, if you do not have the necessary equipment to realize these orders yourself or if your equipment is not suited for small series production. You just communicate your requirements and processing parameters and we will process your wafers according to your specifications and needs.
It is also our utmost concern to provide support for a sound purchasing decision, so you will get the perfect wafer processing solution you are looking for.
Test runs and process qualification@amcoss
– for a doubtless purchase decision
Investment in a wafer processing equipment is a complex procedure in preparation of which many important decision have to be taken. Not only requirements for individual processes and their possibilities of combination, as well as individual production conditions have to be taken into consideration, but also many other important aspects. In our Smart Lab we are able to carry out machine demonstrations and test runs, and also to try out new process applications which will help to substantiate your decisive purchasing arguments in practice. Consequently, solid process evaluation and therefore equipment qualification become possible at an early stage. Furthermore, you will be able to assure yourself of the very comfortable operability of our ams pilot machine software. Naturally, it is also possible to book equipment and software trainings.
Our highly qualified staff will explain all details of our equipment and processes to you. In the end you will receive a detailed report with pictures and videos of the test runs, as well as all test results and necessary data for machine configuration, processes and recipes. Moreover, right after the demonstration we are able to carry through a quality check of the process results on our inspection devices.
Online or face-to-face demos – everything is possible!
You are free to decide whether you want to visit our Smart Lab in person or if you want to take part in the tests and demonstrations online. Especially nowadays, as environmental and climate protection become more and more important and unnecessary car rides or even flights should be avoided as often as possible, in times when travel expenses have to be minimized and we will probably have to reckon with future travel restrictions, live internet demos are more then meaningful. While our engineers operate the system and carry out processes, you will through e.g. Team Viewer, simultanously receive insight into
the equipments' PC (Recipes, Scheduling, etc)
the camera within the equipment for watching the process sequences
cameras at the inspection devices to control process results
Technical facilities
Cleanroom and machine specifications
Size: 25 m²
Climate: climatized and air cooled cleanroom
Class: cleanroom standard 1000 with amber light
1 x amc 1000+ for coating, developing and heating/cooling of wafers up to Ø 200 mm or square substrates
1 x amr 300 processing unit for lift-off and solvent strip of wafers up to Ø 300mm or square substrates
1 x amr 300 for processing unit developing and cleaning of wafers up to Ø 300mm or square substrates.
1 x amr 300 control unit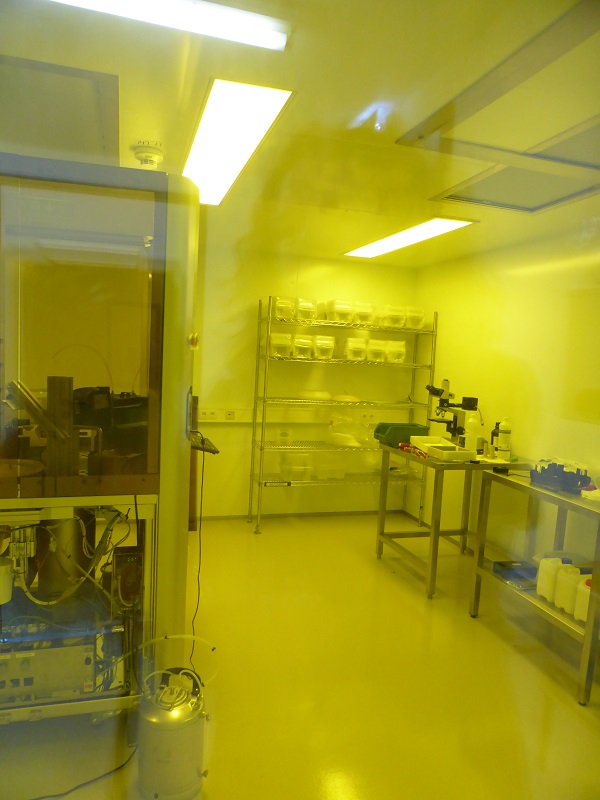 Available processes
For a great variety of feasible solutions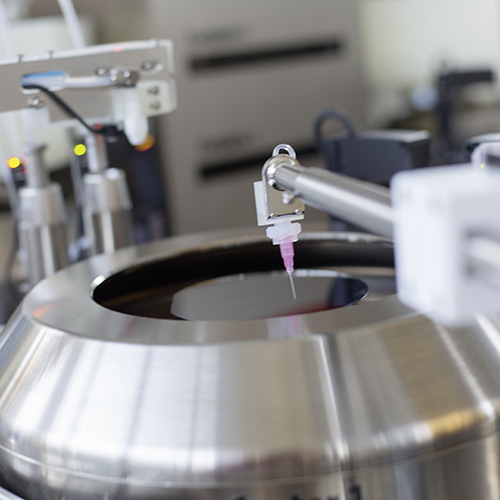 Puddle coating
Spray coating
EBR
EBR for square substrates
Coating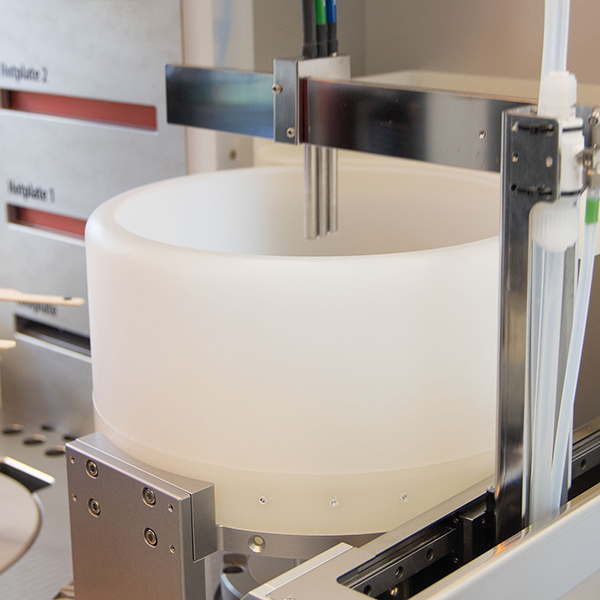 Puddle developing
Spray developing
Developing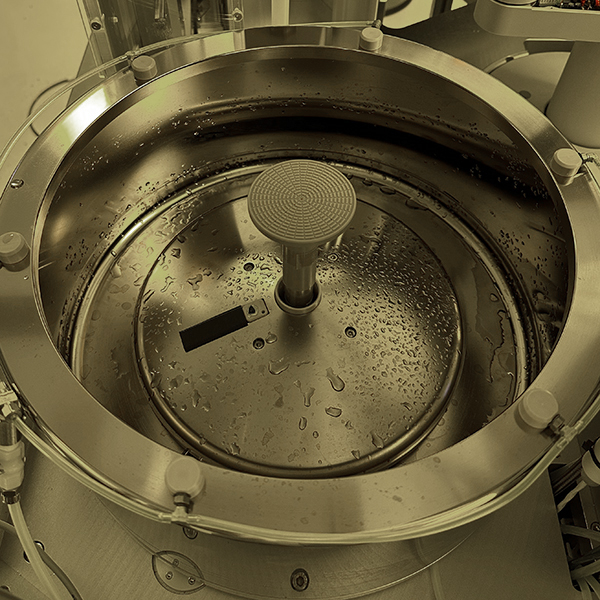 Lift-off with high-pressure nozzle
Lift-off with megasonic
Solvent Strip
Lift-off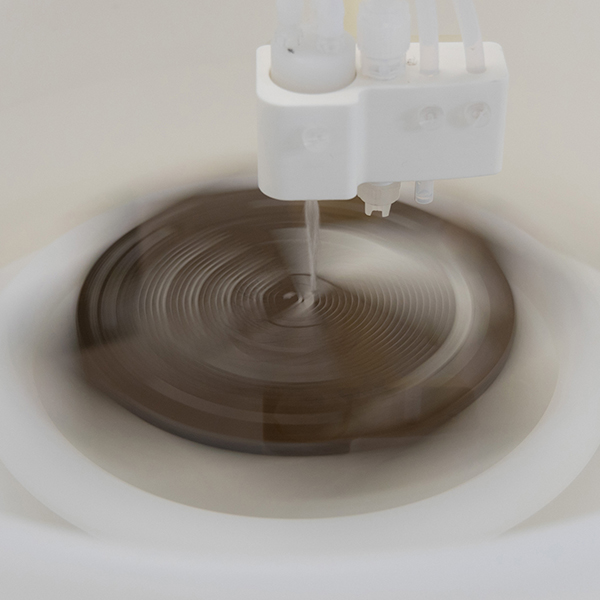 Frontside, backside and edge bevel cleaning with DIW, solvents and diluted acids and lyes
Megasonic
High pressure
Brush
Cleaning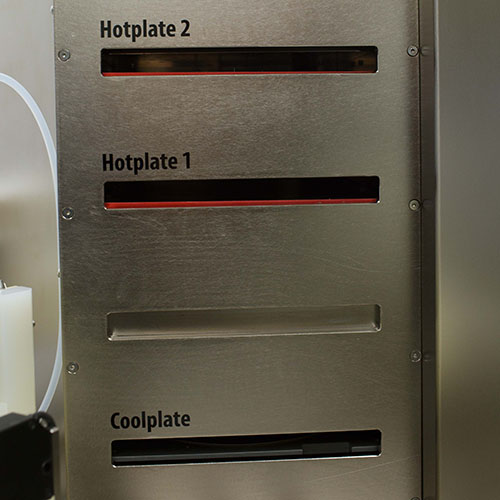 Hotplates for up to 250 °C
Cover heating
HMDS-station
Heating
Inspection and quality control
Certified quality for process results
Immediately after a test run or a demonstration, still in the cleanroom or in our adjoined laboratory, quality of the process results on the substrates can be measured. Our specialized laboratory where we build and repair e.g. optics and other components for photolithography, RTP, CVD, EPI, Inspection and Metrology, is equipped with highly professional testing-, measuring- and calibration devices. Moreover, it contains a flowbox with exhaust and a separate laser laboratory.
Inspection equipment
Reflected-light microscope – for the inspection of nontransparent substrates
Transmitted-light microscope – for the inspection of transparent substrates, e.g. masks
Optical equipment for coat thickness measuring – for measurement of the applied resist thickness